1. What is the Loyalty Cash Program?

The Loyalty Cash Program is a special Rewards point system on Firstcry.com. On purchasing from this site, you will earn Loyalty Cash, which can be redeemed against your future orders. All you have to do is create an account on Firstcry.com and shop for your favourite products and start earning Loyalty Cash.
2. How do I earn Loyalty Cash?

Go to Firstcry.com and search for your favourite products. You will see the Loyalty Cash available against the product. On purchasing the product, the loyalty cash for the product will be added to your account within 48 hours of being successfully delivered to you.
3. How is my Loyalty Cash Calculated?

Your earned Loyalty Cash varies basis the products bought by you on both Firstcry.com. The Loyalty Cash against the product, if available for that product, is aimed at maximizing the value provided to you.
-If you have availed any offer which provides product(s) for free in your order, you will not earn Loyalty Cash for that product.
-If you decide to earn PAYBACK points for your order, you will not earn any Loyalty Cash for that order.
4. How do I redeem my Loyalty Cash?

You can redeem your Loyalty Cash against your entire amount, up to the amount of Loyalty Cash you have, once you have earned a minimum of Rs.300 Rs. 50 as Loyalty Cash through your purchases. You can redeem your Loyalty cash anytime on Firstcry.com. Eg: If you have earned Rs. 75 as Loyalty Cash on Firstcry.com, you can use the entire Rs. 75 against orders on firstcry.com You can redeem your loyalty cash even in orders in which you have availed of any other offer. The option to redeem your Loyalty Cash would be available to you when you are going to pay for your purchases as shown below: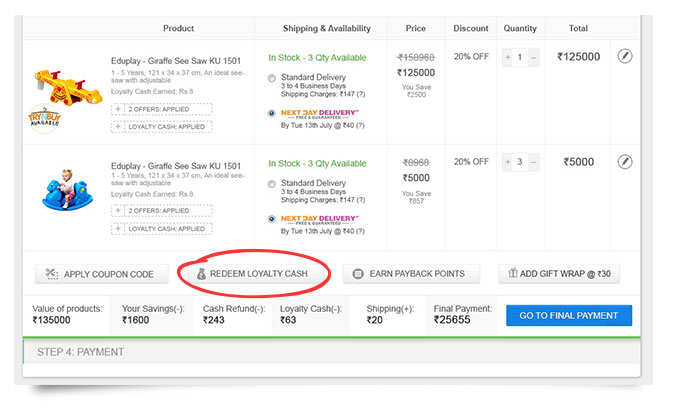 You cannot redeem your earned Loyalty Cash against any extra charges such as shipping charges and Cash on Delivery Charges. You can check out our Shipping Policy and Payment Policy for more details.
5. How do I track the Loyalty Cash I have earned?

You can track your earned Loyalty Cash by logging in and going to the My Account section on Firstcry.com. You can track the Loyalty Cash earned against each order that you have placed on either of the sites in the "Cash in My Account" section.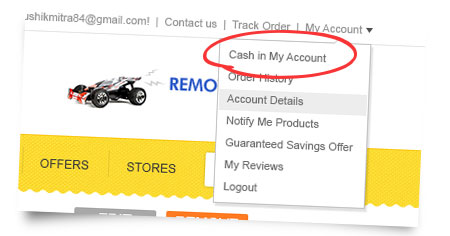 6. What happens if I return / cancel my order?

Earning Loyalty Cash -
If you return/cancel your complete order, you will not be credited any Loyalty Cash against that order. In case any part of your order is replaced, you will receive the Loyalty Cash earned basis the new product delivered to you and if you return any part of your order, the Loyalty Cash against that product(s) will not be added to your account.

Redeeming your Loyalty Cash -
If you return/cancel a product for which you have paid with Loyalty Cash, you will receive a gift certificate from us for the same amount as the value of Loyalty Cash redeemed. If the entire order is returned/cancelled, the loyalty cash will be added back to your account.
7. Will my Loyalty Cash expire if I don't use it?

Loyalty Cash earned by you will expire on the 31st of March every year. We urge you to use your earned Loyalty Cash before this date. For example, the Loyalty cash earned in the year 2012-13 will expire on 31st March 2013. Earned Loyalty cash will not be carried forward beyond March 31st under any circumstances.


Click here for Terms & Conditions »