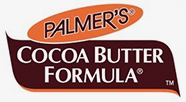 Palmer's Baby & Maternity Care Products
Coco butter is a natural moisturizer derived from the cocoa bean. This is the same cocoa bean that brigns us chocolate. Palmer's Cocoa formula proudcts are dermatologically tested to help improve the appearance of stretch marks while keeping the skin soft & toned while your belly expands.
This formula relieve the dryness associated with stretched skin due to pregnancy & smooth stretch marks due to weight loss.
Formulated to help the appearance of

Scars

Stretch Marks

Dry, Damaged Skin

Uneven Skin Tone

Aging Skin