The story of Zacchaeus is an interesting tale for children. They will be inspired by the miraculous change of heart that Zacchaeus experiences when the Lord visits his place. Read the full story of Zacchaeus here.
History And Origin Of Zacchaeus's Story
The story of Zacchaeus was first told in the Bible in the Gospel of Luke. Zacchaeus was a chief tax-collector at Jericho in the story. A descendant of Abraham, he was an example of Jesus's earthly mission to bring salvation to the lost. Tax collectors of that era were despised as traitors as they were working for the Roman Empire, not for their Jewish community. They were also known to be corrupt. He was known primarily for his faith in climbing a sycamore tree to see Jesus, and also his generosity in giving half of all he possessed.
Story Type
This is a Biblical story that was originally seen in the Gospel of Luke. It has been shared as an inspirational story over the years.
Story Characters
Zacchaeus
Lord Jesus Christ
People of the city Jericho
The Story Of Zacchaeus
Zacchaeus was a tax collector of the city Jericho and learned that Jesus the prophet was passing through the city.  Since Zacchaeus was short in stature, he ran ahead of the crowd and climbed up into a sycamore tree to have a better view of Jesus.  When Jesus arrived, he noticed Zacchaeus in the tree and said to him, "Zacchaeus, hurry and come down, for I must stay at your house today."  This made Zacchaeus very happy but the crowd grumbled, and murmured in a complaint that Jesus has gone in to be the guest of a man who is a sinner.
After arriving at Zacchaeus' residence, he said to Jesus, "Behold, Lord, the half of my goods I give to the poor. And if I have defrauded anyone of anything, I restore it fourfold."  Zacchaeus' actions reveal that his repentance and faith are genuine.  The example of Zacchaeus, who gave away half of his goods, emphasizes the kind of open-handed generosity that characterizes those whose hearts have been transformed by the gospel.
Jesus then announces that salvation has come to this house, for Zacchaeus was also a descendant of Abraham.  This indicates that with God all things all possible, and a rich man can be saved by his actions. Zacchaeus reveals that he is also a true son of Abraham, not just a natural descendant.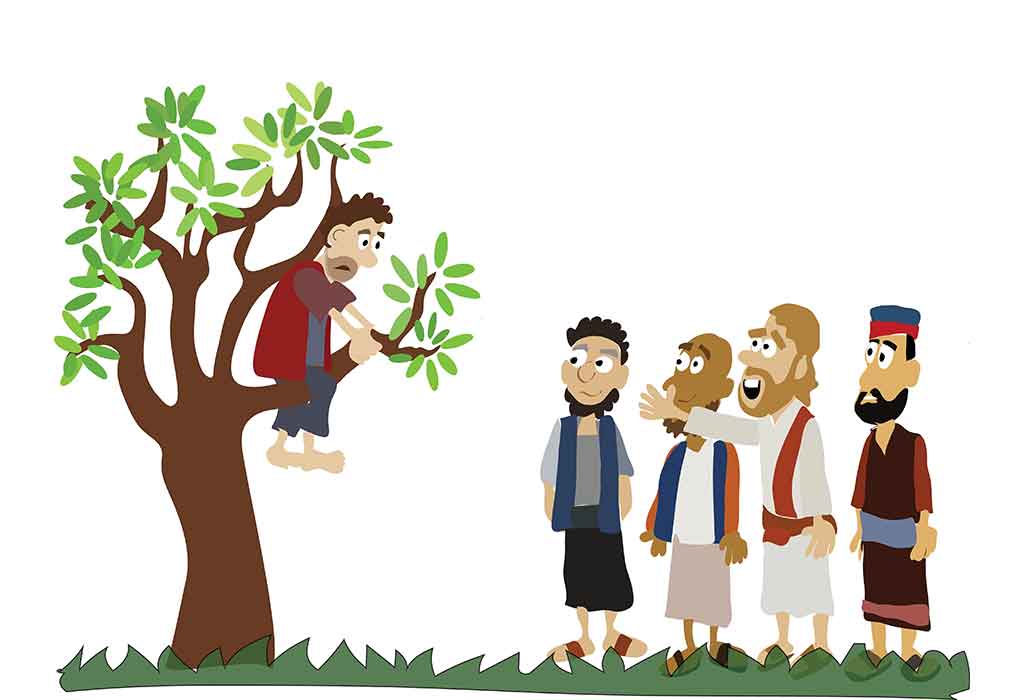 Story Summary
The summary of Zacchaeus's story is given below:
Zacchaeus was a tax collector, known as a traitor in the Jewish community. When Jesus Christ was pleased with his faith and dedication of climbing up the tree to see him, he decided to go and stay with him as a guest. When people around them started grumbling about it, complaining that Jesus has gone to stay with a traitor, Zacchaeus had a change of heart. He donated half of his wealth to the poor and promised to return every bit of wealth that he had earned through wrongdoings.
Thus, the son of Abraham gets salvation at the hands of the Lord.
What Will Your Child Learn From Zacchaeus's Story?
The story of Zacchaeus illustrates the saying of Jesus, "Blessed are the pure of heart, for they shall see God" (Matthew 5:8). The name Zacchaeus means 'pure'. In the short story, Zacchaeus is a wealthy man, but he gives half his possessions to feed the poor. He also promised to return fourfold if he has earned any wealth from wrongdoings.
How Can Children Apply The Lesson Of The Story In Their Real Lives?
From This short story with pictures, children will learn that they must always be generous and open hearted. Being possessive about one's toys, games, and even wealth can make one corrupt but being pure of heart can lead one to the path of God.
Also Read:
Santa's Christmas Story for Children
David And Goliath Moral Story for Kids
Jonah And The Whale Story with Moral for Children