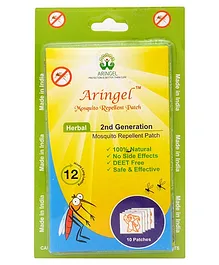 Aringel Second Generation Herbal Mosquito Repellent Patch - 10 Patches
107.81
190
(43% Off)
Aringel Second Generation Herbal Mosquito Repellent Patch - 10 Patches Reviews
All Users
Verified Buyers
SORT BY
Showing 2 of 2 reviews
Sareen
8/4/2017 1:24:39 PM
"Effective"
Found it very effective for my 7 mnth old daughter. it also doesnt smell very strong like d fabric roll on.
Do you find this review helpful?
0
Thank you for your Feedback
Nobel
6/18/2017 1:43:00 PM
"Aringel Mosquito Repellent Patch- Waste!"
I bought this 10 patches pack for 190rs from first cry store. Initially I thought its expensive. But then I convinced to buy thinking my baby is kept away from mosquito. When used it, I witnessed mosquito sitting just 15cm away from this patch , which was pasted in my babys net. Total disappointed and clicked a snap. Dear Parents, dont buy this product at any cause. Dont know y firstcry is selling such standard less product! Anybody can contact me for the photo proof. - Nobel - 9176263636.
Do you find this review helpful?
0
Thank you for your Feedback