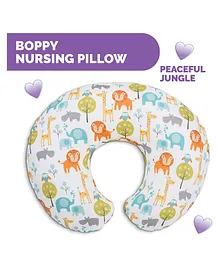 Chicco Boppy Pillow With Peaceful Jungle Slipcover - Multicolor
3007.85
4490
(33% Off)
Chicco Boppy Pillow With Peaceful Jungle Slipcover - Multicolor Reviews
All Users
Verified Buyers
SORT BY
Showing 2 of 2 reviews
Bhavani Jade
1/14/2020 3:56:28 PM
"Best Feeding Pillow"
This is one of the best feeding pillows in the market. you dont have to tie it or hang it. just place it on your pillow and its like your lap pillow for baby. It is expensive but very very helpful if you are already suffering from backpain. Its worth the money if you can afford it. Baby event sleeps well on it after feeding, reduces the effort to put baby to sleep. highly recommended!!
Do you find this review helpful?
0
Thank you for your Feedback
-
7/13/2018 11:36:40 PM
Verified Buyer
"Excellent Product"
Though price is a bit high, much needed and much recommended product for new moms. Go for it if you want to have a comfortable feeding experience for both you and your baby. I have been using it for my baby who is three months old now and we both have a stress free comfortable feeding time thanks to Chicco Boppy.
Do you find this review helpful?
0
Thank you for your Feedback