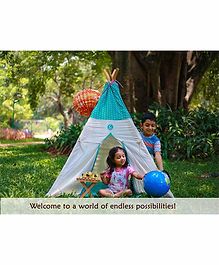 CuddlyCoo Cotton Canvas Tent With Wooden Dowels Snowflakes Print - White
4411.50
5190
(15% Off)
CuddlyCoo Cotton Canvas Tent With Wooden Dowels Snowflakes Print - White Reviews
Ratings & Reviews
4.4
7 ratings and 2 reviews
Have you used this product? Rate it now
Review This Product
All Users
Verified Buyers
SORT BY
Showing 2 of 2 reviews
Perzen Patel
10/7/2018 6:09:28 PM
"Cozy & Cute Tee Pee"
I ordered the Cuddly Coo Tee Pee for my son's second birthday after much research online on which one I should go with. I went with these guys because the TeePee wasn't too expensive and yet seemed like good quality. It's been a week now since we set it up and I must say my son absolutely loves it. We stay in a joint family so the only place the TeePee could go was in our bedroom but I'm happy to share it doesn't take up much space and we fold it up when it's not needed or when we need to clean up. Overall the TeePee was super easy to install and is airy yet sturdy. My son loves to go inside for various parts of the day with his toys and just do his own thing. We also read our nightly story there and it's become a cozy little nook in our room that is just His. While I haven't washed the canvas yet, I went with Cuddly Coo's canvas TeePee's as they seem easy to wash up too. Definitely worth a purchase!
Do you find this review helpful?
0
Thank you for your Feedback
Rohan
9/5/2018 4:35:17 PM
"Great Product"
We are using this teepee tent and are very staisfied with the quality. It was easy to build and maintain. My son loves playing with his toys and reading books inside the teepee
Do you find this review helpful?
0
Thank you for your Feedback