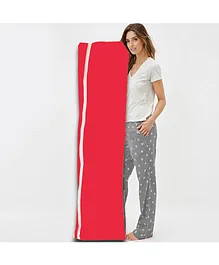 Get It Pregnancy Pillow Long - Red
1600.27
2999
(47% Off)
Get It Pregnancy Pillow Long - Red Reviews
All Users
Verified Buyers
SORT BY
Showing 2 of 2 reviews
Sarala
7/25/2019 12:04:13 AM
"Comfort Pillow"
Product length is adequate and quality of product is good and its an life saver during my night sleep. I felt more comfort after using these pillow and worth to buy and best in market.
Do you find this review helpful?
0
Thank you for your Feedback
Asha
6/12/2019 10:37:01 PM
"Life Saver During Pregnancy"
This Pillow saved me from uncomfortable sleeping position. it provided Good support to my tummy and in between under my leg support . so every night i can able to catch up good night sleep and feel fresh in the morning. Length of the product is adequate and quality is Great. Must Buy product during pregnancy..
Do you find this review helpful?
0
Thank you for your Feedback