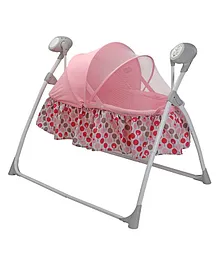 LuvLap Royal Cradle Bed - Pink
8246.25
10995
(25% Off)
LuvLap Royal Cradle Bed - Pink Reviews
All Users
Verified Buyers
SORT BY
Showing 2 of 2 reviews
Samahita Kabra
5/20/2021 4:25:13 PM
Verified Buyer
"Best Purchase For New Born"
I purchased electric cradle because it offers 5 swing speeds that are automatic. This has proved to be a blessing because when my baby is fussy, only the cradle can soothe her. Best thing is it is hands free. Baby sleeps in the cradle comfortably while I can finish off my work. Most use of this cradle has been after vaccination when baby is crying non-stop and is extremely fussy. Also, out of all electric cradles, Luvlap cradle height is highest. This is specially helpful because I cannot bend too low all the time because of my backache. It is easy to place the baby and pick up the baby also. The cradle is easy to assemble and works on direct power, battery as well as manual swing. This cradle has been the best purchase for my baby as it has helped soothe my baby when needed.
Do you find this review helpful?
0
Thank you for your Feedback