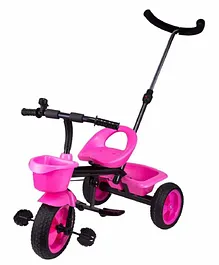 Maanit Tricycle with Parent Push Handle - Pink
2899
Maanit Tricycle with Parent Push Handle - Pink Reviews
All Users
Verified Buyers
SORT BY
Showing 1 of 1 reviews
Ankit Deo
1/11/2021 12:49:42 AM
Verified Buyer
"Simple To Assemble But Not Good Finishing To The Product"
Unlike few other bikes, this one is easier to assemble and feels sturdy too. however, I donot think there is a quality and assembly check done before selling this product. I had to do makeshift setup for both front and rear basket to make it stick to the cycle frame. Also, the bell provided is not kids friendly. hence marking down the ratings.
Do you find this review helpful?
0
Thank you for your Feedback