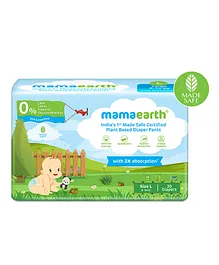 mamaearth Plant-Based Diaper Pants for Babies Size Large - 30 Pieces
565.98
699
(19% Off)
mamaearth Plant-Based Diaper Pants for Babies Size Large - 30 Pieces Reviews
All Users
Verified Buyers
SORT BY
Showing 1 of 1 reviews
Alita
11/2/2020 11:21:07 PM
Verified Buyer
"Best Product Available."
The diaper has really good and quick absorbency. It lasted my baby for a full night sleep. In spite of using it through the night, the next morning, when I took it off, the diaper felt dry to touch. Easy to put on, easy to remove. Baby is comfortable in the diaper. Price is slightly on the higher side, which explains my four star rating. Product wise though, no complaints.
Do you find this review helpful?
0
Thank you for your Feedback