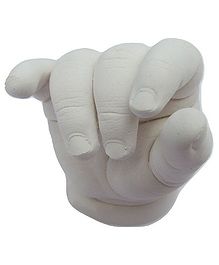 My Impression Studio DIY Superior Color Changing Material Newborn 3D Hands And Feet Casting Kit – White
1726.40
2600
(34% Off)
My Impression Studio DIY Superior Color Changing Material Newborn 3D Hands And Feet Casting Kit – White Reviews
Ratings & Reviews
3.9
7 ratings and 2 reviews
Have you used this product? Rate it now
Review This Product
All Users
Verified Buyers
SORT BY
Showing 2 of 2 reviews
Logesh
7/12/2018 10:56:22 AM
Verified Buyer
"YOU CANT USE IT TO THE REAL KIDS"
REAL KIDS WILL NOT UNDERSTAND WHAT WE ARE TRING TO DO I TRIED WITH MY KID AND ALSO MY FRIENDS KID THEY START SQUEEZINBG IT AS SOON AS IT GETS THE SHAPE AND THEY SPOIL IT,.
Do you find this review helpful?
0
Thank you for your Feedback
Devansh
8/22/2015 7:44:37 PM
"Very Good Product"
Very innovative and creative Do-It-Yourself kit available in India. The step by step instruction manual with kit is very descriptive and very smoothly takes you to the complete casting process in very simple words. 3D casting is really a fun now (for me). Very very competitive price against what they are offering in the kit. This kit comes with a trial pack also, which is very great.
Do you find this review helpful?
1
Thank you for your Feedback