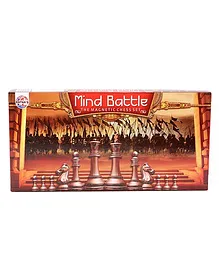 Ratnas Magnetic Chess Game
197.65
295
(33% Off)
Ratnas Magnetic Chess Game Reviews
All Users
Verified Buyers
SORT BY
Showing 1 of 1 reviews
Sanvi
2/10/2018 12:55:54 PM
Verified Buyer
"Magnet Was Missing From One Piece"
Luckily first cry accepted the return but a magnet was missing from one of the pieces. The quality of the pieces is not that great but for the price it was okay. We have now ordered the better one from the same brand hopefully that one will turn out better. Will review that once received.
Do you find this review helpful?
0
Thank you for your Feedback