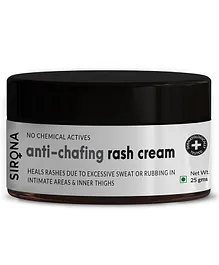 Sirona Anti Chafing Rash Cream for Moms - 25 gm
293.72
395
(26% Off)
Sirona Anti Chafing Rash Cream for Moms - 25 gm Reviews
All Users
Verified Buyers
SORT BY
Showing 3 of 3 reviews
Anmol Mulchandani
3/26/2021 6:15:16 PM
"Soothes My Skin"
My skin goes through a lot of sweating as I am into sports. So I have irritated and inflamed skin on some of my body parts. This cream offers lubrication and helps to reduce the friction and also soothe the skin. It is super soft and gentle and it works to reduce and recover irritated skin.
Do you find this review helpful?
0
Thank you for your Feedback
Sachin
3/16/2021 7:53:13 PM
"Awesome Quality"
My baby have a diaper rashes, and it was a good quality products, best thing it works on mom and baby both
Do you find this review helpful?
0
Thank you for your Feedback