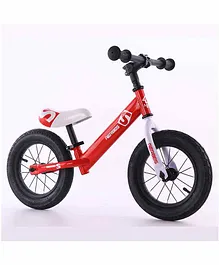 Syga Balance Bike Red - 11.8 inches
5500
Syga Balance Bike Red - 11.8 inches Reviews
All Users
Verified Buyers
SORT BY
Showing 1 of 1 reviews
Fayaz
6/30/2020 12:08:22 AM
Verified Buyer
"Nice Design And Looks Sturdy"
Received the bike today. Packing was nice and everything was in place. Assembled it in about 20 minutes. It is easy, however was expecting instructions in English. The assembly instructions included is only jn chinese.There is a small plastic round part and i am not sure what to do with it. Also, the seat seems to not get tightened fully. Tried to tighten, however was afraid of breaking it apart. The tires are not inflated and i have to get a inflator in order for my son to start using. It would be great if there is assembly instructions in english. Otherwise, a 5 star product.
Do you find this review helpful?
0
Thank you for your Feedback