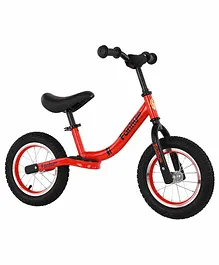 Syga Two Wheeled Balance Bike Red - 12 Inches
2859.35
6500
(56% Off)
Syga Two Wheeled Balance Bike Red - 12 Inches Reviews
All Users
Verified Buyers
SORT BY
Showing 1 of 1 reviews
Kshama
12/5/2020 11:53:19 PM
Verified Buyer
"Very Good Balance Bike"
Ride quality is excellent thanks to pneumatic tyres. My 3 year old absolutely loves riding it on all kinds of surfaces- smooth tiles, concrete, tar, mud road, etc... again thanks to pneumatic tyres. And, he is already cruising with his feet off the ground. Only glitch it is difficult to fix the seat at a higher level- after a few rides it slides down to the original position.
Do you find this review helpful?
0
Thank you for your Feedback