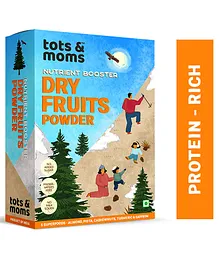 Tots & Moms Foods Dry Fruits Powder- 100 gms
395
Tots & Moms Foods Dry Fruits Powder- 100 gms Reviews
All Users
Verified Buyers
SORT BY
Showing 3 of 3 reviews
Das Greetfranka
4/9/2021 7:12:58 PM
Verified Buyer
"Best Dry Fruit Powder I Have Ever Tried"
I have ordered this for my nephew. Before ordering I was going through the ingredients and I saw written turmeric and thought that it would not taste good. Feed babies are always difficult and I thought he will not like the taste of turmeric. Then I thought of giving a try and finally ordered. Believe me I have never expected such a good taste. The richness of the dry fruits and haldi, such a good combination. And my nephew also like to eat this. Quite happy with the product and so thought of reviewing as many parents have doubts about this.
Do you find this review helpful?
0
Thank you for your Feedback
Ramya B
1/7/2021 4:53:52 PM
Verified Buyer
"Very Good Food For Babies."
Very good food for babies. Its tasty and healthy. Tots and Moms brand can be trusted.
Do you find this review helpful?
0
Thank you for your Feedback