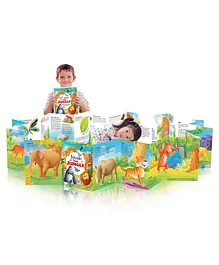 Inside Our Jungle - English
591.90
750
(21% Off)
Inside Our Jungle - English Reviews
All Users
Verified Buyers
SORT BY
Showing 1 of 0 reviews
Bhakti
7/8/2018 12:35:10 AM
Verified Buyer
"Very Interesting And Unique Book"
This book is in a folding format with information on animals, birds and insects on both sides. It probably covers the entire room length when you open it entirely. The illustrations are very interesting and engaging. Will surely recommend this book.
Do you find this review helpful?
0
Thank you for your Feedback