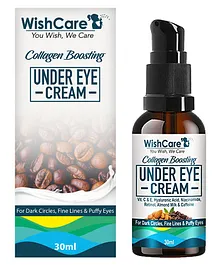 WishCare Collagen Boosting Under Eye Cream for Dark Circles & Wrinkles - 30 ml
349.10
499
(30% Off)
WishCare Collagen Boosting Under Eye Cream for Dark Circles & Wrinkles - 30 ml Reviews
All Users
Verified Buyers
SORT BY
Showing 3 of 3 reviews
"Made My Eyes Under Eyes So Clean."
You will NOT regret this purchase I ve been using this product for a full month before I decided to write this review. I wanted to give honest feedback and I bought the product based of the reviews I read This product is GOLD. I suffer from raccoon eyes and within 2 weeks I seen a noticeable difference in discoloration and fine lines. I ve added this to my morning and night routine which includes witch hazel to help lighten around my eyes. I am not disappointed.
Do you find this review helpful?
0
Thank you for your Feedback
Do you find this review helpful?
0
Thank you for your Feedback