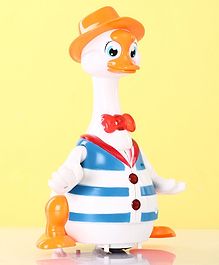 Zoe Amusing Duck With Light & Music - Yellow Orange Red
490
1225
(60% Off)
Zoe Amusing Duck With Light & Music - Yellow Orange Red Reviews
Ratings & Reviews
4.5
105 ratings and 1 reviews
Have you used this product? Rate it now
Review This Product
All Users
Verified Buyers
SORT BY
Showing 1 of 1 reviews
Quality And Attractions
11/11/2020 9:12:37 PM
"Quality Of Plastic Is Average Not Too Much Solid. Bt Yeah Its Beautiful Toy... Sounds Good..my Baby Loves ?? This Duck..if Plastic Of Toy Would Better Than I Will Give 5stars"
Quality of plastic is average not too much solid. bt yeah its beautiful toy... sounds good..my baby loves ?? this duck..if plastic of toy would better than I will give 5stars
Do you find this review helpful?
0
Thank you for your Feedback