Share your details and
Get a call back
Select Age Group
2-3 years
3-4 years
4-6 years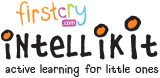 The tolal value for product(s) need to minimum ₹ 249 to place an order. Please add items to your cart to place your Order.
What You Get

Ages : 3-4 Years
Jungle Safari
Contents of the Kit
8 Activities 1) I Spy, 2) Jumping Frog, 3) Animal Puzzles, 4) Animal Habitats, 5) Wildlife Expedition, 6) Forest Puzzles, 7) Animals in the Wild, 8) Worksheets 1 Story Book - A Trip to the Jungle, 1 Learning Calendar, 1 Happy Tracker and Loads of fun!
About this Kit
It's the best time of the year to spot wild animals, birds & exotic flora, and it's all there in this month's Intellikit! Give your little one a chance to solve exciting animal puzzles and spend hours playing 'I Spy', along with plenty of other engaging activities. Keep your binoculars ready and don't miss out on this amazing jungle safari!
shop now

1. Select Age Group

Jungle Safari (3-4 Years)

2. Subscription Length

3 MONTH SUBSCRIPTION

Buy now, save 39.96%

6 MONTH SUBSCRIPTION

Buy now, save 49.97%

Or
Choose our Trial Kit to sample the activities

Trial Box

3 Activities, 1 Storybook, 5 Worksheets

Buy now
MRP incl. all taxes
tested by parents

Bosky
Very fast service and products are genuine..Definitely I am satisfied !
Jun 08 2017
Tulip
Amazing products. Reasonable prices. Gr8 customer service. Cheers !!!!!!
Jun 01 2017
Dipa
Great range of products right from new-born essentials ... Excellent product quality and delivery
May 31 2017
Mohsin
Great site for baby product, i m shopping here since 2012. The quality of product and services is never changed. Keep it up.
May 30 2017
Samuel
Reliable trust worthy site, worth shopping, simple and easy to operate, huge money savings. # prompt delivery # real discounts # value for money. Keep up First Cry
May 14 2017
FirstCry.com - Asia's Largest Online Baby and Kids Store, is India's largest online shop for new mom and baby products, offering top of the line discounts on renowned national & International brands. Some of the most reputed brands available on FirstCry.com include Chicco, Graco, BSA, Johnson & Johnson, Medela, Pigeon, Fisher - Price, FunSkool, Lego, Disney & Barbie. FirstCry.com offers the widest range to chose from, boasting of over 2 Lakh Baby & Kids products. Customers can avail benefits of free Shipping as well as CoD(Cash on Delivery) on purchase from the website. © 2010-2019 www.FirstCry.com. All rights reserved. This website can be best viewed in resolution width of 1024 and above.

TOP
My Coupons
Shortlist

Compare, consider and buy products you saved

Recently Viewed

Keep track of products you were viewing

Quick Re-Order

Quickest way to find and re-order the products you love!

Track Order
Be in Touch
Become a Franchisee
Please enter your Order Number below.
To check your order number you can either check your Order Confirmation email or login to your account and check your order history.
To get in touch with our customer care team regarding any queries or assistance, click
here
5