The "Chubby Cheeks" song is one of the popular kids' rhymes that all children love singing. It is a beautiful rhyme that talks about different human body parts, including cheeks, chin, lips and more. Despite being so famous, the origin of the rhyme remains unknown, including when it was first published. Although, it is believed that the rhyme was written just for the purpose of entertainment. How did the rhyme become so famous? The rhyme became a favourite as it was passed down from generation to generation. The simple lyrics made it possible for children to learn the rhyme easily.
Lyrics Of Chubby Cheeks In English
There's a reason why nursery rhymes have been around for centuries. They work like a charm for children. Even as adults, we can sing rhymes if we hear just a word from the rhyme. Kids listen to rhymes very carefully from beginning to end. This helps them remember the lyrics of the rhyme easily.
Make the learning process fun and entertaining for your little ones by teaching them some delightful actions to do while singing the rhyme. Here are the lyrics to the Chubby Cheeks poem:
Chubby cheeks, dimple chin
Rosy lips, teeth within
Curly hair, very fair
Eyes are blue – lovely too.
Teacher's pet, is that you?
Yes, Yes, Yes!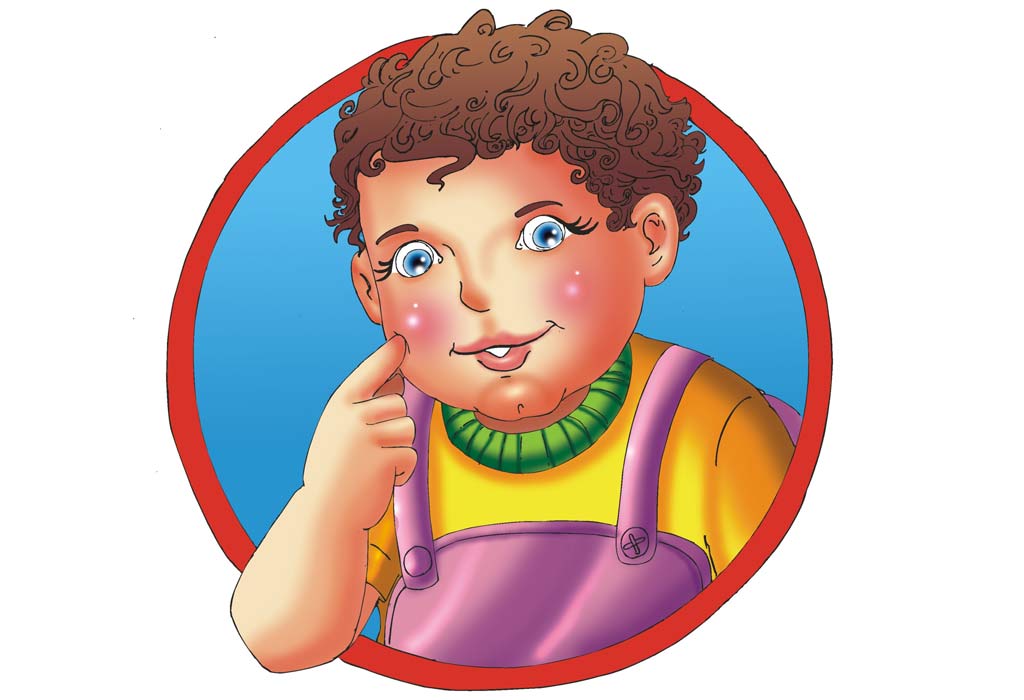 What Will Your Child Learn From The Chubby Cheeks Rhyme?
This joyful rhyme will reinforce kids' sense of identifying the human body parts. The poem has different human body parts, like the cheeks, chin, lips, teeth, hair, and eyes. As the children will recite the rhyme, they will point out these body parts, which will later help them when they will learn about the senses. Apart from this, the children will also come across the rhyming pattern, which will aid in teaching early literacy skills like phonemic awareness and fluency development.
Theme of Chubby Cheeks Rhyme
We don't easily forget the rhymes and songs we were taught in school or during the early years of learning. We have recited these rhymes many times in our formative years, and the words rush in even if we hear them decades later. Chubby Cheeks is one such rhyme that is ideal for introducing kids to the body parts mentioned in the rhyme in a fun way.
The main theme of the rhyme is to teach kids about some of the human body parts. The rhyme does not mean that the body part should only be exactly like what is described as, but it only means that cheeks can be chubby and hair can be curly etc. Every individual is unique and beautiful, and therefore, no two people can have exactly the same feature details. However, people can resemble each other.
Rhyming Scheme Of The Chubby Cheeks Rhyme
Chubby Cheeks is a short rhyme that follows the A/A/B/C/C/D rhyming pattern.
Words That Your Child Will Learn From Chubby Cheeks Rhyme
Your child will be able to learn the following rhymes with the help of Chubby Cheeks rhyme.
Sight Words
Very
Are
Too
Is
That
You
Yes
Vocabulary Words
Chubby
Dimple
Rosy
Within
Curly
Fair
Lovely
Teacher
Pet
Body Parts
Cheeks
Chin
Lips
Teeth
Hair
Eyes
Colour
Rhyming Words
Suggested Activities
Learning a rhyme doesn't need to be boring and complicated. Rhymes are made for learning as well as entertainment purposes for children. To help you keep the learning process of rhymes fun and exciting, we've put together some fantastic rhyming activities for your child that we know will be a big hit with your little learners. Try these today!
1. Mirror Play
Stand with your child in front of the mirror.
Start playing or reciting the song.
Ask your child to sing along with you.
Point to the body part in the rhyme and let your child see in the mirror what you are pointing at.
Encourage your child to do the same.
This will encourage your child to copy you and learn where the body parts mentioned in the rhyme are located. When your child comes across the mirror, they will definitely sing the rhyme and point to the body part independently.
2. Toy Play
Take a barbie doll or any other soft toy that your child has.
Sit with your child in front of you.
Now, start singing the rhyme and point to the body parts of the toys that are mentioned in the rhyme.
Pass the toy to your child and encourage them to do the same.
Kids love playing with toys and will not let go of this learning opportunity with their favourite toy. It is recommended to repeat this activity twice a day with your child.
FAQs
Here are the answers to some frequently asked questions about the Chubby Cheeks nursery rhyme. If you have more questions, do share them with us in the comments below.
1. What Type Of Rhyme Is Chubby Cheeks, And At What Age Can Children Sing It?
Chubby Cheeks is a nursery rhyme. A toddler or a preschooler will be able to sing this rhyme easily. If your child is unable to sing this rhyme, do not force them. Take the help of the activities mentioned above to make the learning process easy for your kid.
2. How To Teach Kids The Chubby Cheeks Nursery Rhyme?
Start with singing the poem in front of your kid. If this doesn't work, play the rhyme on a smartphone or laptop. You can also perform actions to make the learning process fun for kids. Repeat the rhyme twice a day, and in no time, your little one will start singing along. Even if your child is just a baby, you can sing the rhyme to them. It will make your bond stronger.
Hope you and your little one enjoyed the Chubby Cheeks nursery rhyme. We bet your child won't stop singing and pointing at the body parts mentioned in this nursery rhyme.
Also Read:
One Little Finger Rhyme for Kids
Early To Bed Nursery Rhyme for Children
This Old Man Rhyme for Kids with Lyrics