Animals like cats and dogs always fascinate children. Either they want to grab them or run away from them. Unsurprisingly, most children's stories feature animals instead of humans. We deliver messages of society through animals, whether it's the big bad wolf or the resilient tortoise. We could maybe say that they learn more from animals than humans!   
Pussy Cat, Pussy Cat is one such popular English nursery rhyme that originated in England in the late 1800s. The earliest record of the rhyme is from 1805, when it was printed in Songs for the Nursery in London. As the poem is reasonably short, children love memorising and reciting it.     
Pussy Cat, Pussy Cat Lyrics In English
The lyrics of Pussy Cat, Pussy Cat poem are below:   
Pussy cat, pussy cat, where have you been? 
I've been down to London to visit the Queen. 
Pussy cat, pussy cat, what did you there? 
I frightened a little mouse under her chair.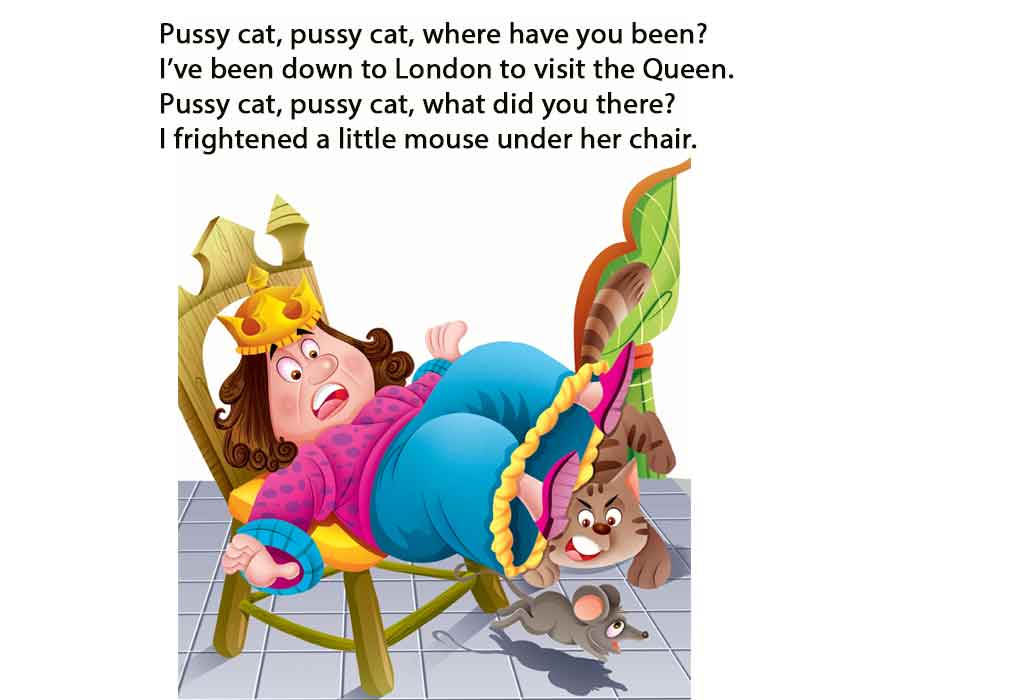 What Will Your Child Learn From Pussy Cat, Pussy Cat Rhyme
As this rhyme is pretty short, you can start teaching your child how to recite poems and verses using this. You can easily teach your child these four lines and see their face light up when they realise they have memorised an entire rhyme.  Your child can also learn basic rhyming words and how sentences are formed. You can also teach your child the relationship between prey and predator, as we see depicted here in the form of the relationship of a mouse and cat.     
Theme Of Pussy Cat, Pussy Cat Rhyme
The rhyme is relatively simple and does not seem to have a fixed theme. The poem can have multiple interpretations, but someone is conversing with a cat. The person asks the cat where have you been, to which the cat tells them that it had gone to London to visit the Queen. When asked what the cat did there, it said it frightened a mouse under the Queen's chair. This suggests that the cat had travelled and was fond of mischief. 
Rhyming Scheme of Pussy Cat, Pussy Cat
The rhyming scheme of the nursery rhyme is AABB. We see that the last words of the first two lines rhyme, and the last words of the following two lines rhyme.  
Word That Your Child Will Learn From Pussy Cat, Pussy Cat
Your child can learn rhyming words like there-chair and been-queen. You can also teach them the names of different cities, as London is also mentioned in the poem. 
Suggested Activities
1. You can make cat and mouse puppets out of socks and have your child wear one while you wear the other. As you both recite the poem, you can have the sock-cat and the sock-mouse chase each other around. This will be a fun activity for your child, and they will learn something too.   
2. You can introduce your child to English history as the Queen is mentioned here. Remember to make it fun and as simplified as possible.   
FAQs
1. How old does my child need to be to learn the Pussy Cat, Pussy Cat rhyme?
As long as your child is old enough to talk, listen, and understand, you can easily teach them to sing along with you or recite it by themselves.
2. Does Pussy Cat, Pussy Cat have historical relevance?
It is believed that the Queen depicted in the poem is Elizabeth I, but it is also thought that it could be Caroline of Brunswick. So, it is hard to say which one is historically relevant, but it may talk about Queen Elizabeth I.