You'll be surprised to know that you can read to your baby minutes after returning from the hospital. No, we are not joking! After all, babies are born ready to learn! Now, you might think that they won't understand what you are saying, but even if your baby doesn't understand the words you're saying, the process of reading can engage all their senses.
You may have had many thoughts, queries and ideas about introducing your child to reading. Here are the expert-recommended answers to all the questions you may have had.
What are the benefits of reading to a baby?
Reading to a baby has the following benefits:
Promotes emergent literacy and language development
Babies become familiar with books and the concept of books
Little ones get accustomed to listening and focusing
Reading aloud stimulates language skills and cognitive thinking skills, and enhances memory
How to read to a baby?
Given below are some tips to get your baby started:
Use Your Voice: Babies love funny sound effects. Use your voice to make animal sounds, bird sounds, tongue clicks and more while reading to your baby, and in no time, your baby will start imitating you.
Be A Role Model: Babies are great observers and follow what their elders do, especially parents and siblings. So, grab a book, and be a role model for your child. Don't be surprised to find your baby leafing through a pile of books by themselves one day!
Make Reading Time Interesting: Babies tend to grab anything and everything in their reach. If that thing interests them, they try to explore it. So, allow your infant to touch and turn the pages of the book and let them engage with it.
Age-Appropriate Books: Make sure that you are using age-appropriate colourful storybooks, songbooks, lullabies, and board books when reading to your little one.
Daily Ritual: Read to your baby at least once a day to get them interested in books and reading. This will help develop reading skills in them.
We spoke to Dr. Gunjan Baweja (paediatrician), and she has something very interesting to add as a tip for new parents! She says, "For infants, reading is all about the tone of your voice and cuddling up to you. As a practical tip, babies upto 12 months tend to be hard on their playthings, so try sticking mostly to board books, which can take rough handling (and even chewing!). Cloth books are good, too, though turning the pages can be challenging for a baby. Touch and feel type books are super fun, but be sure to avoid any with ribbons, buttons, or other small choking hazards that can easily detach with a good yank."
What is the best way to read to a baby?
You can follow these tips to read to your baby:
You can hold your baby on your lap and cuddle together while you read.
It's okay to read the book back and forth. If your child wants to stop and hold or flip the pages of the book, let them engage with it.
Pick a picture book and point out pictures of "cow," "horse," "TV," etc., when you read to your baby.
You can increase the length and complexity of books as your little one shows interest. You can shift from word books to small story books as your child grows.
What books are best for babies?
Here is a list of books that are best reads for your baby:
Intelliskills Board Books

Animals Shapes & First Words

Goodnight, Moon by Margaret Wise Brown

Bear Snores On by Karma Wilson

The Very Hungry Caterpillar by Eric Carle
How to know if the baby is interested in listening while you read?
If you wish to know whether your baby is interested while you read to them, look for these signs mentioned in the table below: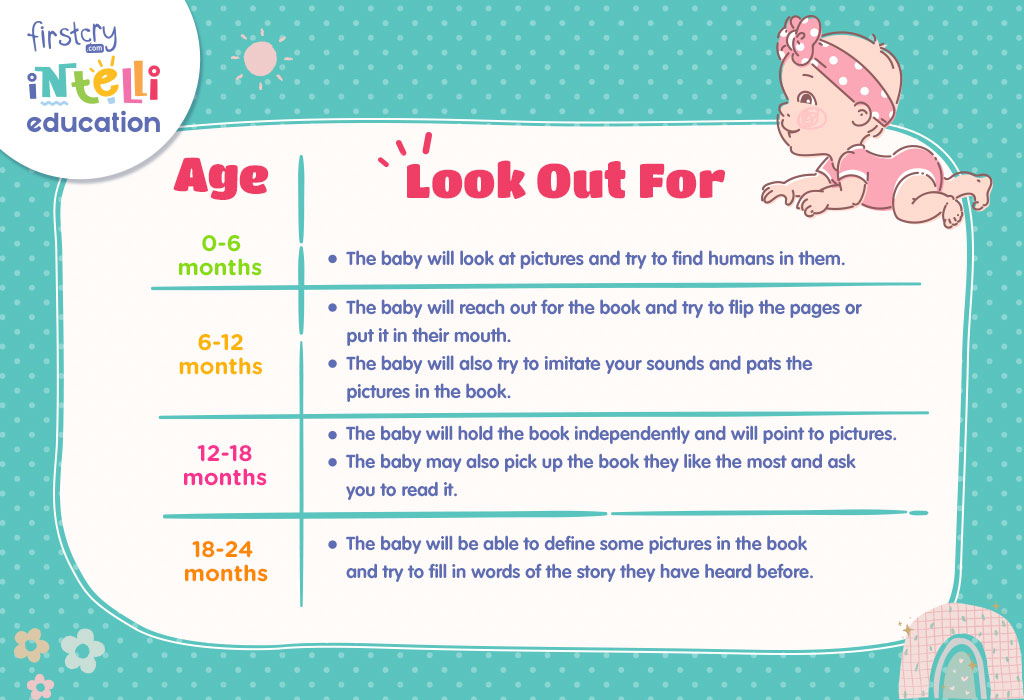 When should you start reading bedtime stories to babies?
You can start reading bedtime stories to your baby from a very early age to boost their imagination. Making reading a part of night time routine can help your baby calm down and understand that it's their sleep time.
Fun Fact: Many expecting mothers start reading aloud while they're still pregnant, as babies can recognise their mother's voice in the womb.
Remember that reading should be a relaxing and enjoyable time for both you and your baby. Don't consider it a chore. Cherish the happiness of reading to your little one, and before you know it, they'll be reading to you.