When it comes to messy play, we bet your little one is already advanced at this skill. Messy play provides babies with a kind of stimulation that has several advantages for them. While the mess, clutter and what might seem like chaos are themselves learning opportunities for kids, what's really great is that this might end up with your child learning organisation skills, upkeeping hygiene, maintaining caution and taking care of themselves.
Understanding Messy Play
Messy play sounds self-explanatory from the looks of it, however, there is something deeper to it. Let us break it down for you. Messy play is an activity in which kids are given the freedom to engage, play and interact with their surroundings and try to explore objects and their properties through open-ended gameplay. Without being led or given any rules or directions, kids use their own curiosity to figure out and learn about things around them.
Benefits Of Messy Play
Messy play has several benefits, the first and most apparent of which is, developing a child's curiosity.
While engaging with several objects with different properties, kids improve their observation skills and learn about cause-effect,
Messy play engages various senses and serves as wonderful stimulation.
Kids who engage in messy play are more likely to understand physical concepts better.
Open-ended activities give kids a chance to play at their own pace, without the pressure of keeping up with a set of rules or having to demonstrate an action correctly.
Messy play does require some real action at the hands (and legs) of your child, engaging their small and large muscles and improving their motor skills.
Managing The Mess!
The Clean-Up!
Messy play can lead to a load of work for parents and caretakers. A fun idea would be to involve your kids in the clean-up after they're done playing freely. Initially taking their help might take you longer to wind up, but this lays the ground for the future when they will clean up their own mess all by themselves.
The Clutter
If you're worried about the clutter spreading too far and wide, define a restricted area where your child can play freely and don't let them bring any of the toys or objects outside of that area. This leaves things a little more organised for you to manage.
Supervise!
While the child should be allowed to play freely in order to enjoy the benefits of messy play, you should make sure you do not leave a baby unsupervised at all. Be around so that you know what's going on and to be sure that there is no harm or danger in your baby's way. Besides, you don't want to miss out on those curious expressions of your little Newton!
Set A Time
Most parents are likely to lose their patience when their babies get messy. However, giving them some time to explore the world around them has immense benefits for them. Set aside a fixed amount of time in which your baby can play as they wish. And give yourself that time too, to ponder over how wonderful it is to simply sit back and watch without worrying all the time.
Messy Play Ideas
The whole idea of messy play is to let your child play as freely as possible, without any organisation. But if you prefer some more well-planned play ideas, here are some that your baby will love
Sensory Bins: Babies love these for the variety of stimulus this activity provides.
Water Play: All you need is a tub of water and your baby! Collect some plastic toys, rubber ducks and other such toys and let your child splash around, get wet, and explore water.
Clay Play: The colours, the textures and the infinite number of shapes that can be created with these are what make clay one of the most popular messy toy for kids.
The Nature: Is it raining outside? Your messy play set-up is ready! Is there snowfall? Say no more! Got a garden? What else do you need! Just take your kid out and let them figure it out on their own.
Parents Speak
Let's hear from parents we've interviewed to understand what they feel about their little ones enjoying their messy time and some of their interesting observations!
Sakshi Vijay, Rihun's Mom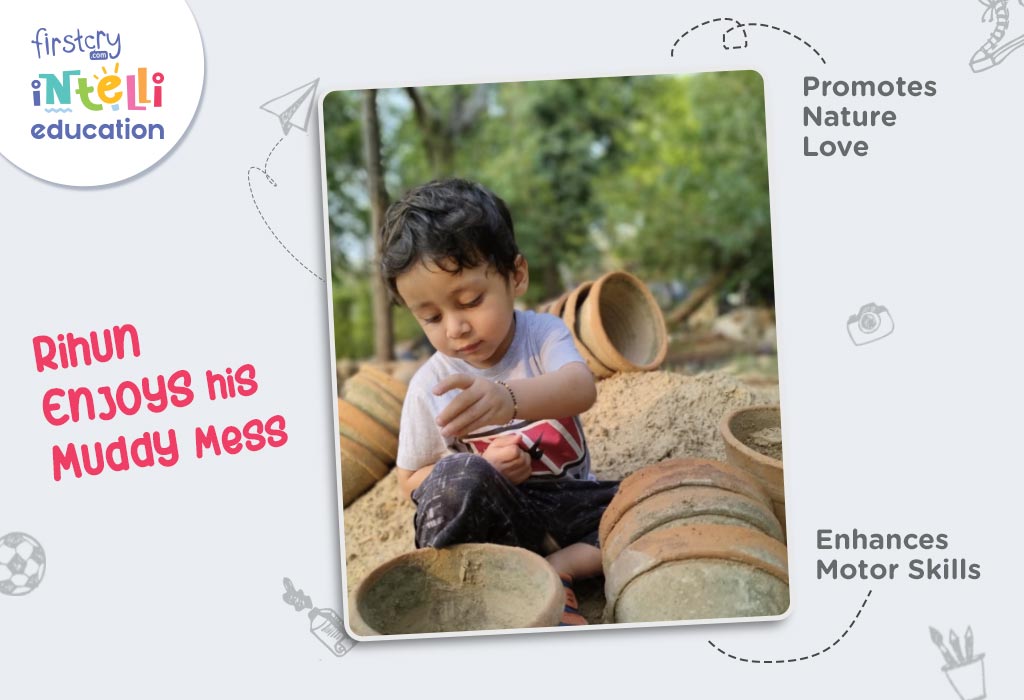 Rihun, my son, is a quarter past the terrible twos and loves messy play. It started when we discovered how much he likes to watch the grains and vegetables being used in the kitchen. He likes to juice his citrus, then helps to knead the dough, washes rice, peels potatoes and eggs and finishes with sweeping and mopping. If you know a toddler, you know how much of this help results in a mess! Handling such a mess inside the house became tedious, and we started thinking of ways to help him use this energy outdoors, especially so that he could discover textures and the ecosystem, whatever is available in our urban home.
We let him water the plants, and he helped with sowing seeds and transplanting some saplings. We discovered that he loves to get his hands dirty in the mud.
Initially, I was scared of the extra germs that he would be exposed to, if he tried to eat mud – and he did – but gradually, I read, learnt and understood about the benefits of such exposure and how that counterbalances the probable dangers.
Some steps I've taken to minimise the dangers are that we vigilantly supervise him. We gave him a gardening tool set for kids (so he uses a spade instead of his hands), explained to him about frequent hand washing, and also got him some kinetic sand to play indoors.
I love to see my son dip his hands in muddy slush and find a seed, a snail or a centipede! I hope it helps him connect with the environment and he respects every form of creation!
Divya Ganesh, Kavya's Mom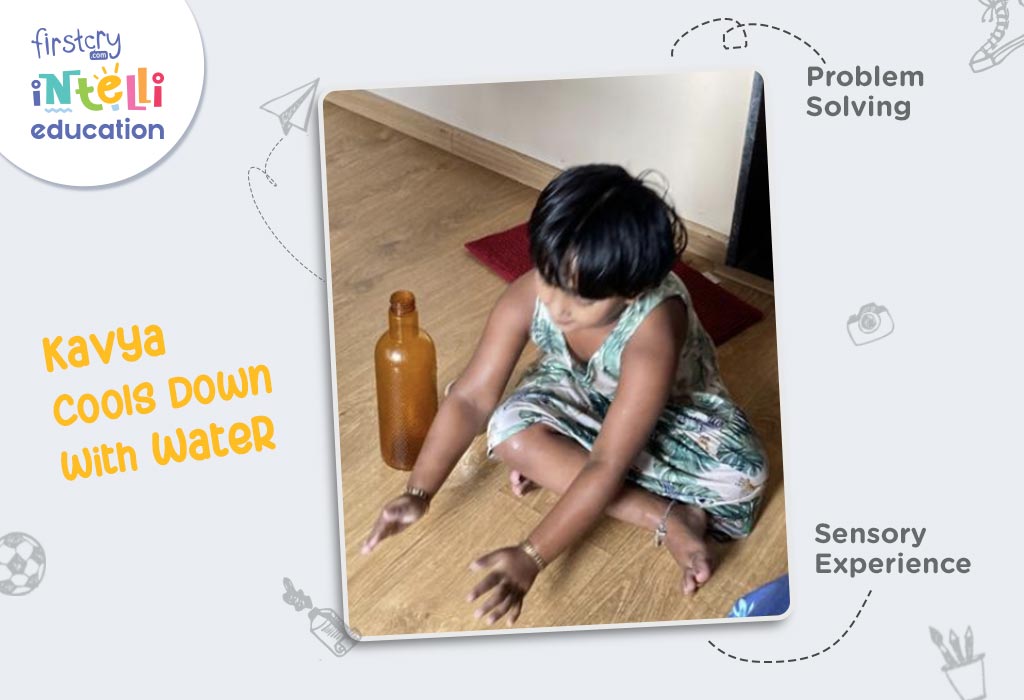 Kavya was an easy kid. She was quiet and rarely cried as a baby, which of course, did not stay the same as she got older. She was rarely naughty, but as she grew she discovered new things – some from TV and some from her friends. Once, during the early days of lockdown, she was so done with Pune's hot weather that she took a water bottle and poured it all over the floor! She didn't stop there. She decided to scoop the water from the floor in her hands and pour it on herself. She did this for a couple of days before I had to stop her. Floor water on her body aside, I couldn't clean this mess in the house everyday! But as you can guess, she didn't care about what I said and continued to do it the next day as well. I had had it by then, and told her if she did this one more time, she would not get any screen time or play time with friends. She wasn't one to give up so easily. I finally threatened to throw away her favourite toy, and I did that in front of her (almost), to make her stop turning the house into a fall hazard or subjecting herself to a bout of cold. Finally, after 4 days of watering herself, she stopped. While I was really concerned about the safety issues with this kind of mess, I was secretly very proud of my little one's problem-solving skills. I should probably worry less about her.
Jenny Thanki, Jia's Mom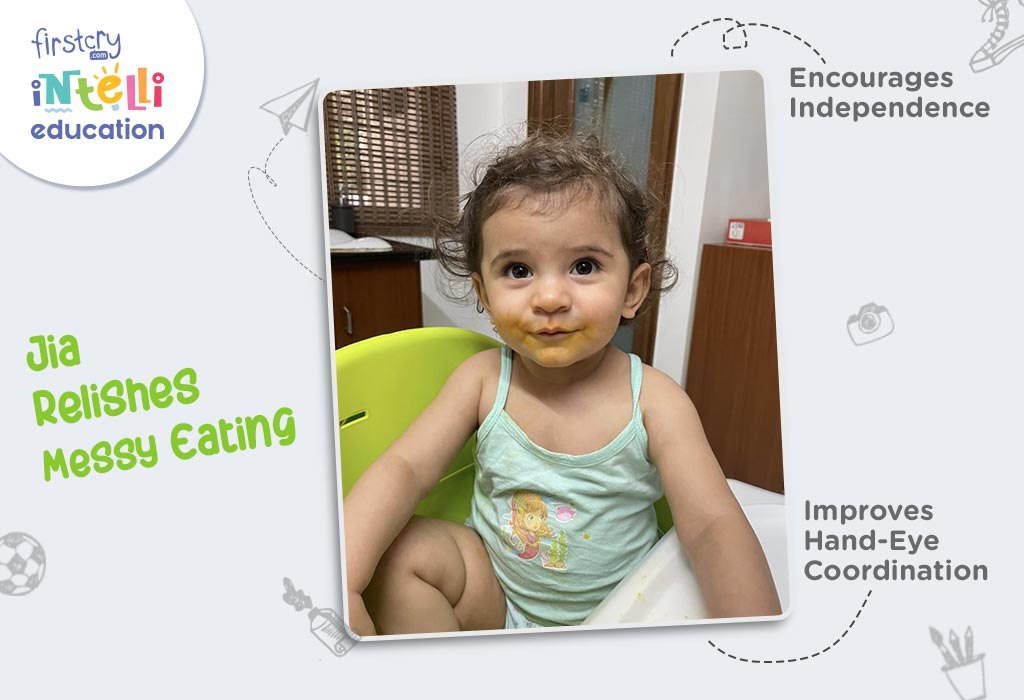 My daughter is 18 months old and she loves to eat on her own. She loves it when we let her eat the way she wants. I don't make her wear a bib or limit her in terms of being clean while eating. She tries to eat with a spoon like how I make her eat. And she spills a lot in the process. Then she throws away the spoon and starts eating with her hand like a caveman but cuter. Over time I have learnt that messy play while eating has led her to eat on her own, made her understand how much she wants to eat and has improved her hand-eye coordination.
Manas Mukul Yadav, Ekaaksh's Dad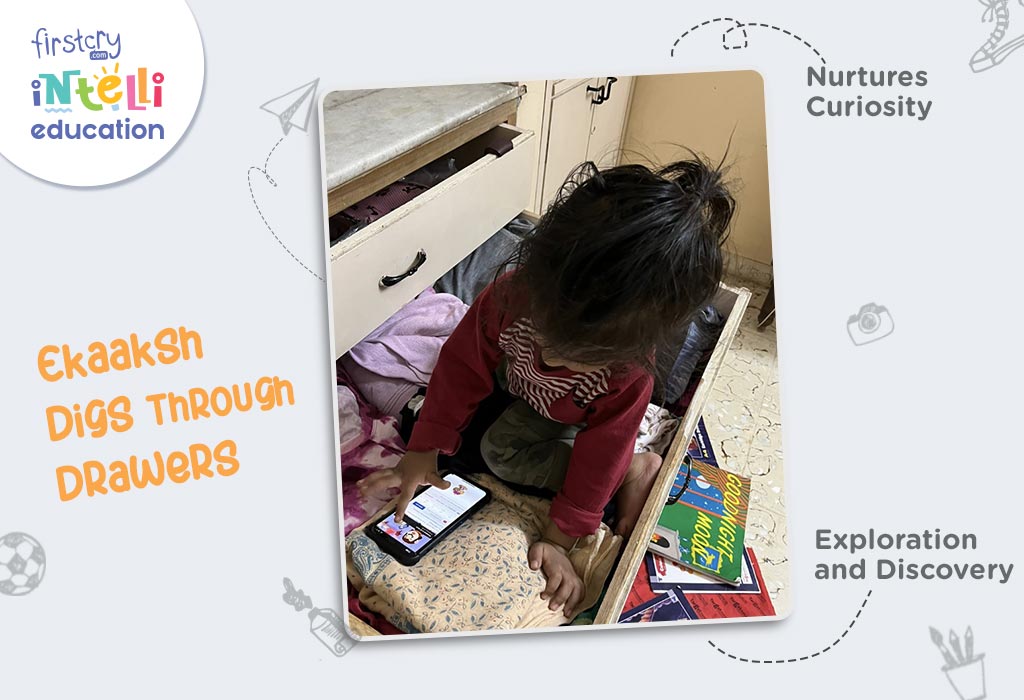 Ekaaksh has a very serious idea of what he wants to do, and he will find a way to do it. He keeps looking for secret spots to take away my phone and entertain himself with it. And guess what spot he chooses? Our drawers! Stuff's out and he's in. And the mess that it leads to is quite a lot of work for us to clear up behind him. The first instinct of any parent in this scenario would be to stop him from disrupting all the organisation, probably locking the drawers or keeping him away from our stuff altogether. But I like to take a different approach. I like to watch him from a distance and observe what he does. It is nice to see him think out of the box, explore and discover things around the house and even find a comfort zone for himself.
Riddhi Gill, Kiara's Mom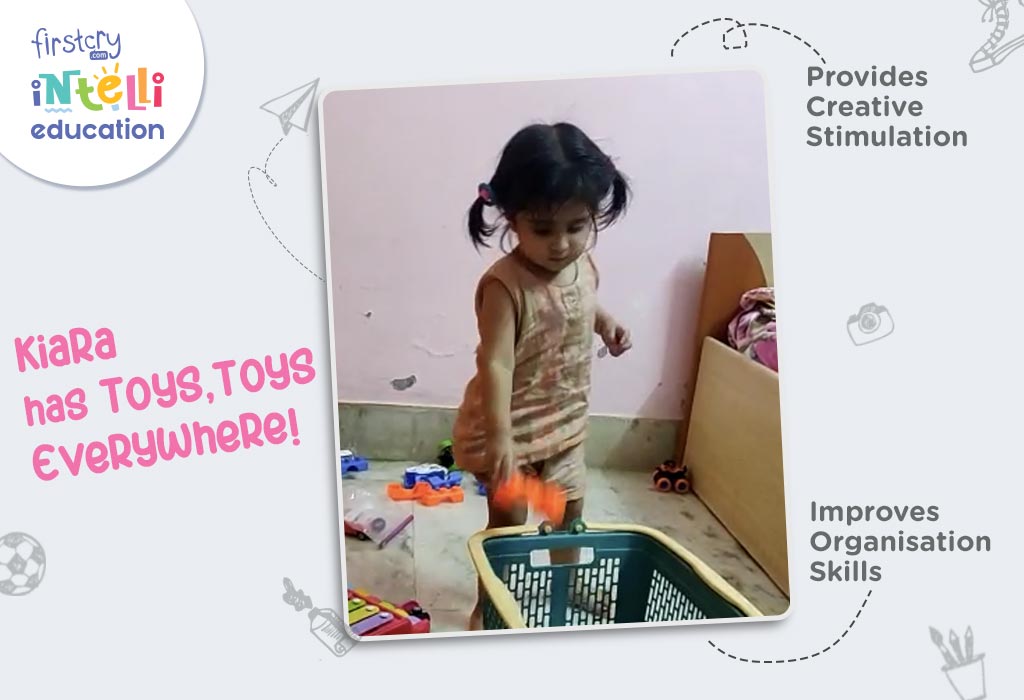 We can't even count the number of toys that Kiara has! Or may be we can, because Kiara spreads them out everywhere for us to take a clear note of exactly how many there are! Toys, toys everywhere! She gets a sense of joy and it stimulates her in a very exciting way. Perhaps it all the colours and attractive shapes and forms that are so wonderful to look at. But they're not exactly what you want to decorate your entire floor with, now, are they?  We as parents enjoy watching her play and have a good time, but this is where some rules come in. At the end of the day, she needs to wind up by picking up all the toys and putting them in the basket. Not sure if she understands that we are making her clean the room, afterall this is yet another fun time game for her! But it's definitely the start of laying a foundation of organisational skills. Perhaps, she's learning something out of all this mess.
Prashant Mishra, Karan's Dad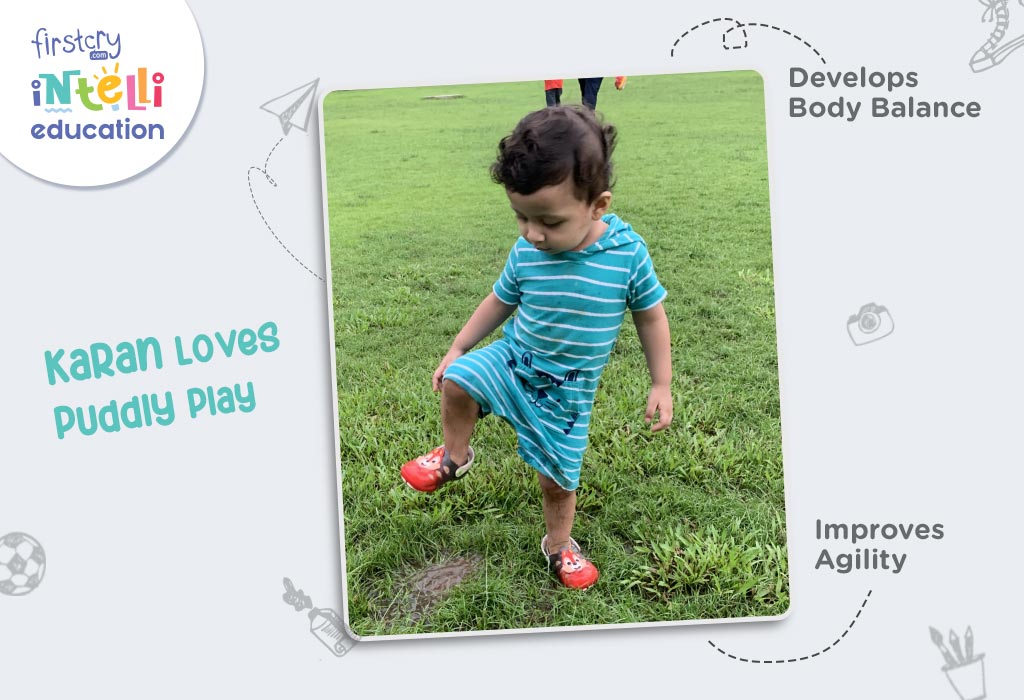 My son chooses to wear cool new outfits and put on his favourite pair of shoes when he goes out to play. And what does he want to do once out? Chhap chhap in muddy puddles! On the horror of having to scrub those toes, feet, knees… more like his entire little body, hair, clothes and shoes, as soon as we get back home. But while I stand at a distance worrying about all the mess, dirt and even germs he might be catching while splish-splashing in the puddles, I totally enjoy watching his excited grin as he observes this cause-effect. He knows he's doing something that makes his parents worry, but that simply makes his 'naughty smile' grow bigger! Here's one more thing I have observed. I keep worrying that he will slip in the puddles and take a fall. But the truth is, he seems to be aware of this challenge himself. It is remarkable to watch how he tries to maintain his balance, learning through his falls too! In fact, he doesn't even fall that much. Probably becoming stronger as he plays.