Johny Johny Yes Papa is one of the favourite rhymes among babies, toddlers, and kids of all ages, even parents. It's a fun and playful way to teach small babies some gestures and head nodding movements to express 'Yes' and 'No'. For more grown-up toddlers, this rhyme is useful in learning dos and don'ts. 
The Rhyme Johny Johny Yes Papa is believed to be documented by an American professor and scholar Francelia Butler in 1989. It was told in Kenya for the first time in 1980. Set to the popular tune of twinkle twinkle little star, this is a catchy rhyme for kids. Children will enjoy learning these nursery rhymes in English, so let us teach them this fun song. 
Johny Johny Yes Papa lyrics In English  
Johny, Johny!
Yes papa?
Eating sugar?
No papa.
Telling lies?
No papa.
Open your mouth!
Ha ha ha!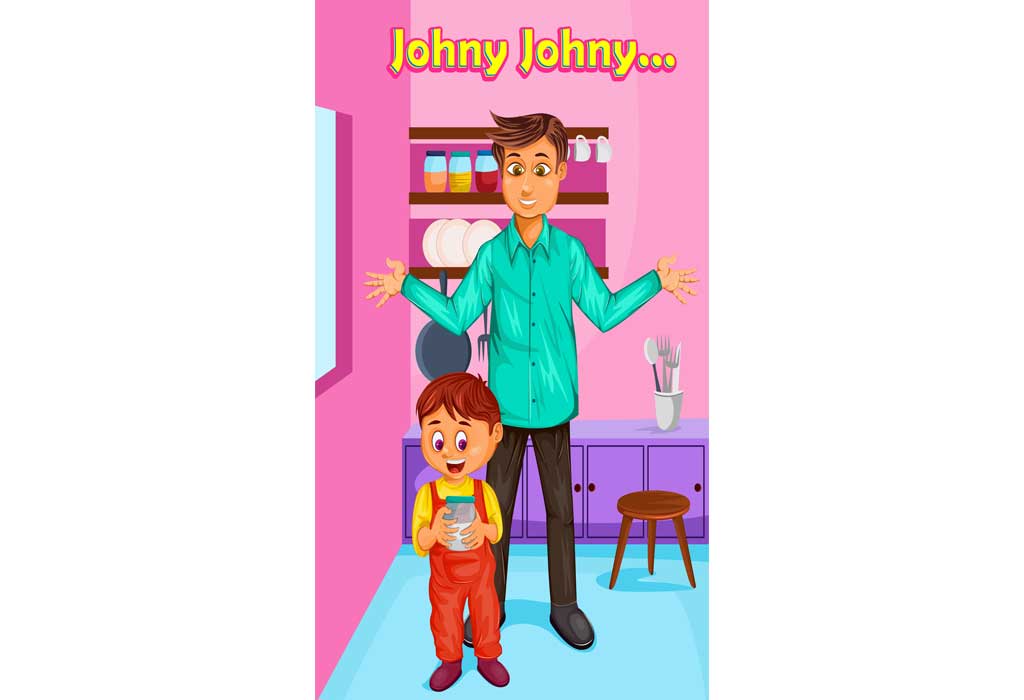 What Will Your Child Learn From The Rhyme Johny Johny Yes Papa?

 
This rhyme has a few important learning takeaways for children. Johny Johny Yes Papa is a song that can be introduced to a kid at an early age, even when they are babies. Following the rhyme, the baby will enjoy imitating gestures indicating yes and no. These body movements, imitation and gestures are very important aspects of a baby's development. 
As your child grows, they will pay attention to the lyrics of the poem and learn a few valuable lesson. They will understand the importance of following the rules laid out by their parents, while also getting and understanding of right and wrong. 
This nursery rhyme has a very simple verse and your child will be able to learn it quickly.  
Theme Of The Rhyme Johny Johny Yes Papa

 
This song is about a child who has been told not to eat sugar. "Sugar" here represents unhealthy food intake for a child, or any rule laid out by the parents. The child, however eats a mouthful of sugar while the parents aren't looking. That is when Johny's father questions him whether he has eaten sugar. He at first says no, to which his father makes him introspect whether he is telling lies. The child soon realises that he has broken a rule and lied about it. The father then tries to catch him red handed, by making him open his mouth, which was full of sugar! Johny replies with a naughty laugh as he is caught without a chance to escape. 
While the poem is introduced to kids with an intension of fun and zest, it is an interesting way to teach them about the right behaviour expected out of them. In a way, the rhyme makes kids realise that their parents will always know what they are up to, discouraging them from wrongdoings. 
Rhyming Scheme of Johny Johny Yes Papa

 
The rhyming pattern in this song is very catchy, and easy for kids to remember. The song is presented in the form of a conversation between father and son in short phrases. It can be defined as ABCB pattern, as every alternate line ends with the word Papa, except the last line, which ends with Haha, that rhymes with the word Papa.
Words Your Child Will Learn From Johny Johny Yes Papa

 
Since this rhyme can be introduced to someone as little as a baby, let us look at the very basics of vocabulary that Johny Johny can teach your kid. 
Yes, No and Papa – These small words which a baby can babble, or enact in gestures, are the first ones your kid will learn from this nursery rhyme.  
They will also learn to name and identify their body part, mouth, when asked to "open your mouth". Even before your baby has learnt to speak words, you will notice that they have understood the word "mouth" as they try to imitate the "ha-ha-ha" sound. 
Activities To Teach Your Child Johny Johny Yes Papa

 
Here are some fun and engaging ways to teach your baby this nursery rhyme. Whether you are a parent, an older sibling, a caretaker or a teacher, these fun activities will be helpful for you:
Head Bobbing
When teaching this song to a baby, head bobbing is an effective technique to teach them how to associate the words of the rhyme with actions. This might become one of their favourite things to do! So next time your baby starts nodding their head in excitement, take it as a hint that they want you to recite the rhyme! 
Dress-Up!
Older kids will enjoy playing dress-up while reciting this rhyme. One child can become 'Papa' by putting on his shoes and wearing a shirt, and holding a briefcase, while the other (shall we say, the lucky one?) can eat a whole cookie stuffed in their mouth! The rhyme can be recited by the two, taking turns to speak the rhymical dialogues with all the dramatics of catching the child red-handed! 
FAQs

 
1. Who is talking to whom in Johny Johny Yes Papa
This poem is a rhymical dialogue between a father, who is being address as Papa, and a child, who is being addressed by his name Johny. 
2.
Why can't Johny eat sugar?
Johny is not supposed to eat sugar because he has been instructed so by his parents. It is unhealthy for children to consume sugar, and can cause decay of their teeth along with other health problems.  
3. Why did
Johny lie about eating sugar in the rhyme Johny Johny Yes Papa?
Johny was trying to hide from his father the fact that he had eaten a mouthful of sugar. But as we all know, nothing gets by from our parents' eye! So the father caught him red-handed, teaching him the importance of obeying parents and never lying. 
 Enjoy this rhyme with your child as they learn various things from it, right from basic body movements to important moral values.